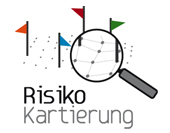 Risk Controversies visualized:
The Development of Internet based Argumentation Maps
Funded by the Federal Ministry for Education and Reserach in the context of the Programm: "Social Ecological Reserach"
Project website: http://www.risk-cartography.org
Project report: Download PDF (6,5MB)
---
Real and suspected imperilments like electromagnetic pollution, nanoscale materials, dietary supplements and BSE open up complex arenas of (sub-) political debates about risks. The societal actor is confronted with the complexity and dynamics of contradictory expertise and media reports.
The term "Systemic Risk" aims especially on dynamics and changeability of these risks that call for new institutional handling. One new form of societal practice with systemic risks will be developed in this project.
The intention of the project is to develop of a prototype for the internet based representation of risk-related controversies in form of risk cartographies. The project is a transdisciplinary cooperation of social scientists, computer scientists and practice partners. The aim is to enable new forms of societal practice for dealing with systemic risks. The prototype will contain maps for three case studies (electromagnetic pollution, dietary supplements and nanoscale objects). These maps show actors, materials and arguments and their (formally unseen) connections, relations and interactions by internet based visualisation.
Scientific methods of discourse analysis and (actor-)network analysis help us to describe knowledge-claims, risk-concepts and locally based assessments of the different concerned actors. Based on these findings, a software tool for visualising the database will be designed, tested and refined.
The application for the project was allowed by the Federal Department of Education and Research (BMBF) in autumn 2005. Processing starts in December 2005. The aim of the project is planned to be achieved in December 2008.
The project is integrated in BMBF's promotion activities focus "Sozialökologische Forschung", subject area "Strategies for Handling Systemic Risks". It is a joint project of MPS and Wissenschaftszentrum Umwelt Augsburg (WZU). For the development of an applicable software tool there exists a close cooperation with the Software and Consulting GmbH (SouCon)
In order to guarantee a problem-oriented analysis of the case studies and an adequate practice transfer, cooperations are arranged with some practice partners as the World Environment Center (WEC), DIALOGIK, International Risk Governance Council(IRGC, Genf) , Münchner Rück AG (München), Bayerisches Landesamt für Gesundheit und Lebensmittelsicherheit (Dept. Forschungskoordination und Risikoanalyse, Erlangen).
Finally the science project is connected with the international network of "Cartography of Scientific Controversies" (www.ccscgroup.org) initiated by Prof. Bruno Latour (École des Mines, Paris) and Dr. Warren Sack (UC Berkeley) and will be linked to the "Galerie der Forschung" at the Austrian Academy of Sciences under the leadership of Dr. Albena Yaneva.
---
Runtime: 01.01.2006 – 31.07.2009
Coordination:Dr. Cordula Kropp
MPS-Team: Astrid Engel, Gerald Beck